Jawatan Kosong Posisi Executive (Factory Operation Technical) di Julie's Manufacturing Sdn. Bhd.
DESKRIPSI Jawatan Kosong
Demeanour, Qualifications, Knowledge and Skills Required:
The ideal candidate's demeanour and approach to life and work should be as follows:
Biscuit-loving, fun-loving, optimistic, innovative, energetic, aspirational, tech-savvy, and eager to learn with a hearty zest for life, specifically humble, open, fearless and yet possessing a little edge to think and go out of the box;
A good listener, trustworthy, reliable, honest, accountable, collegial, well-groomed and professional;
Proactive, resourceful, detail oriented, well-organized, self-directed, and able to thrive in high-pressure situations;
Appreciative and respectful of diverse cultures, abilities, genders, and different worldly belief systems.
Major Duties and Responsibilities 
The successful candidate will be responsible for:
Capable of handling both wrapping machines and vertical wrapping machines.
Ensuring all machine maintenance and servicing are done according to schedule.
Planning ahead before any process of maintenance and servicing.
Minimizing machineries breakdown and production downtime.
Performing continuous improvement in process and machineries.
Ensuring all the maintenance and servicing process is carried out according to ISO 9001, HACCP, ISO 22000 and FSSC 22000 requirements.
Ensuring all the machine are safe to handle.
Training subordinates the correct procedure of machine maintenance and servicing.
Training fellow workers the correct operation of machinery.
Able on call to attend to any emergency cases when machine breaks down.
Undertakes any and all other duties and responsibilities as so instructed by the superior and/or Company.  
Qualifications and Skills Required The ideal candidate will have:·      
Possess at least a Degree in Electrical/Mechanical/ Mechatronics Engineering and with at least 5 years of experience in related field.
Possess good mechanical or electrical knowledge and relevant working experience in the manufacturing environment will be an added advantage.
Excellent analytical and trouble-shooting skills.·        
Detail oriented, able to practice high level of caution.·        
Able to make effective and firm decisions.·        
Reliable and able to work independently with minimal supervision.·        
Able to communicate effectively with his superiors, peers and subordinates.·        
Able to speak and write fluently in English and Bahasa Malaysia.·        
Computer-literate and proficient with Microsoft Office Suite programs (Word, Excel, Outlook and PowerPoint).
Possession of own transport is preferred.       
To be based in Alor Gajah, Melaka.
Informasi Tambahan Jawatan Kosong
Tingkat Pekerjaan : Junior Executive
Kualifikasi : Manufacturing, Maintenance
Pengalaman Kerja : 1 year
Jenis Pekerjaan : Full-Time
Spesialisasi Pekerjaan : Manufacturing, Maintenance / 510, 115
Informasi perusahaan Pemberi Kerja, Julie's Manufacturing Sdn. Bhd.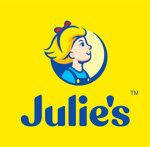 It took us quite awhile to get to where we are today; 35 years in fact. We started sharing our love through our delicious and delightful biscuits since 1985. We've always been known as the biscuit brand with the humble and kind girl as its logo. 
And now it's time for a change and a makeover. Over the last 35 years, while we have retained much of humble disposition, we have also grown more open, braver, and funnily more human. Open because we have grown to share our love to over 80 different countries. Braver because we want to be better and inject more fun and playfulness in biscuit makers. More human because we have learned that biscuits are more than just a culinary delight; biscuits are about people. They are about making connections, breaking barriers, and building bridges. 
Following this perspective, we have revamped our entire brand look, feel and experience. Julie, our trademark icon, now looks confidently up, into the future and towards her next aspirational adventure. The colourful rays that emanate from her marks the brand's incredible zest for life. We ask you to join her. Look up, smile, put on your best energy, grab a pack of your favourite Julie's Biscuits, and join her in her amazing adventure.
Informasi Tambahan Perusahaan Julie's Manufacturing Sdn. Bhd.
Ukuran Perusahaan : 1001 – 2000 Employees
Waktu Proses Lamaran : 28 days
Industri : Manufacturing / Production
Tunjangan dan Lain-lain : Medical, Parking, Depend on job role, Monday to Friday
Lokasi : Alor Gajah